By Julia Einstein
Assistant Director of Family and Studio Learning
Artist Interventions start with a team of artists and a big question, "What is unique about the artist's experience in the Museum?" Members of the team, Shoshannah White, John Knight, Clint Fulkerson, Rob Sullivan, Kim Convery, Daniel Minter, Karen Gelardi, and Joe Kievitt will have the opportunity to design one Artist Intervention in 2012.
Big success! The launch on Friday, January 20 was the interpretation of the concept "the studio in the Museum." Artists engaged visitors on the spot throughout the Museum.  Kimberly Convery, with the assistance of several members of the team and special guest artists, mapped an evening with more than 18 artists* working at an easel, sketching out ideas, playing music, and collaborating around a drawing table. View photos from the evening here.
We are excited for the February 10 multi-media evening when artist Clint Fulkerson will produce a live drawing event in galleries. From 5 p.m. – 7 p.m., the admission is free and Museum visitors will be encouraged to view, participate, converse, and look in as the Portland artist uses video, transparent tools, and a digital drawing space to share his creative process.
Watch Clint's installation for the exhibition "Decor" at University of Maine, Farmington Art Gallery in January 2012. White Sharpie jumbo paint markers were used exclusively on a black wall. This time-lapse video condenses approximately 12 hrs of drawing.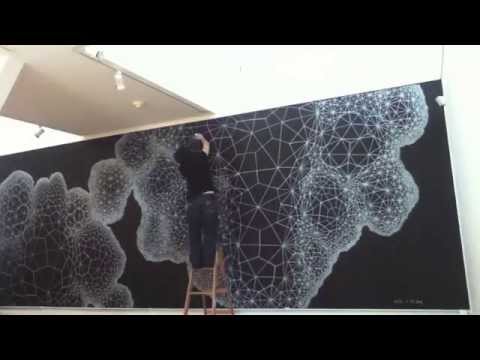 And, mark your calendars! The Artist Intervention on March 16 will be designed by Karen Gelardi. See you then!
*Jeff Badger,  Adrianne Herman,  Emily Trenholm , Greta Banks, Rebecca Fitzpatrick, Elizabeth Chapman, Angela Warren, Sarah Baldwin, Norah Maki, Edwige Charlot, John Knight, Pat Corrigan, Kyle Bryant, Lucinda Bliss, Pilar Nadal , Daniel Minter, Kimberly Convery and Toni Jo Coppa.